SPHP Sunnyview Expansion: Exterior, Nurse Station,
Therapy Gym, and Patient Room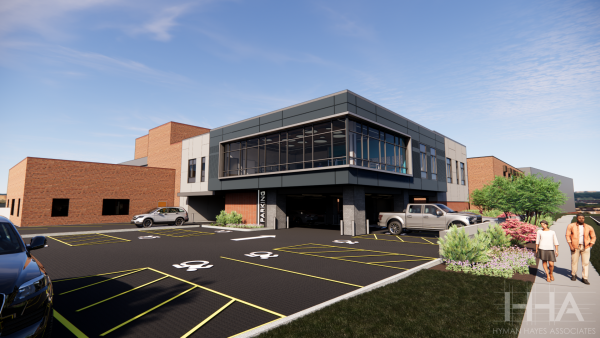 A $10.9 million renovation and expansion project is scheduled for SPHP's Sunnyview Rehabilitation Hospital, and HHA is excited to be a part of it! Also, we enjoy working with our friends at AOW Construction as the contractor. Construction will begin this summer and last 1.5 to 2 years.
Learn more in the Albany Business Review here: https://www.bizjournals.com/albany/news/2022/02/17/sunnyview-rehab-expansion-renovation.html
UPDATE:
The HHA team is proud to have been involved in the renovation and expansion of the Sunnyview Rehabilitation Hospital, currently under construction. The primary objective for the interior of the project was to enhance the patient experience with the use of natural materials in a modern style to alleviate patient anxieties and elevate their overall experience. The addition extends over the existing parking lot, to retain a drop-off area on the second floor. The exterior elements were designed to integrate with the existing hospital while also highlighting the physical therapy gym. The renderings below show the interior Therapy Gym, Nurse Station, and Patient Room and the exterior building addition.