HHA Structural Studio - Supporting Your Vision
We help building owners and other design professionals accomplish their design vision. We help make your facility a reality in a cost-effective, constructible way.
Our structural design principal Justin Pechar whose background includes working for one of the most respected structural design firms in the Northeast. Justin has more than 25 years of experience in structural engineering design for healthcare, education, commercial, and industrial facilities. He has expertise in unique, complicated building structures, steel connection design, non-building structures, and steel structure design.
Architects and building owners should not be limited in their design ability and potential to create their vision. Experienced structural engineers can help make it happen. Our approach is practical and balanced." - Justin Pechar
Structural Engineering Services:
We specialize in unique and complicated structural engineering problems and offer a variety of structural engineering solutions:
Design:
Buildings (new, additions and renovations)
Non-building structure design
(dunnage frames, platforms, pipe racks, vessel support)
Delegated Design:
Structural steel connection design
Steel stairs, landings, and guardrails
Analysis and Evaluation:
Concrete damage repair
Forensic investigations
Review of existing structures
HHA is willing and able to travel for unique opportunities; we are licensed in several states and continue to grow.
Arizona
Connecticut
Georgia
Illinois
Maine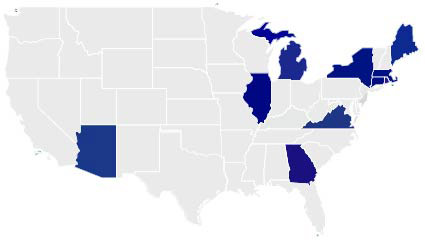 Massachusetts
Michigan
New York
Rhode Island
Virginia
Contact: Justin Pechar (518) 452-3470 ext. 213
Informative Articles by Justin Pechar