Renovation: Whitney Young's Health Center in Albany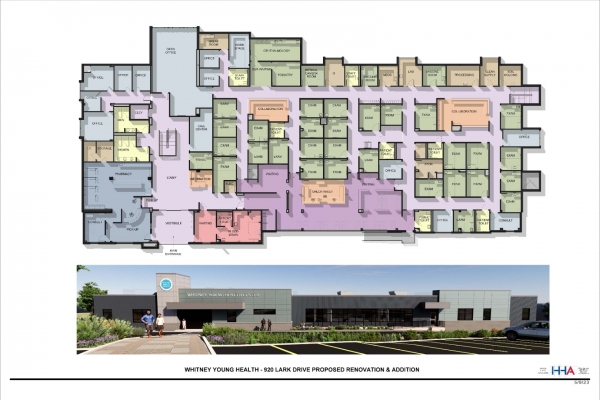 Whitney Young's Albany Health Center, a 16,896-sf building at 920 Lark Drive, will soon be undergoing major renovation and expansion. HHA has worked closely with WYH to design a medical space that would address their patient population and allow flexibility for future changes.
The HHA Design Team concentrated on creating a pleasant and personal environment for the patients and staff, while at the same time designing a space that will optimize the clinical workflow.
To accomplish this appealing environment, we designed the public spaces to incorporate natural light, opening the front façade with a window wall and re-using the existing skylights. Materials, local artwork, and the overall color palette were a joint design effort with WYH Healthcare's Behavioral Health experts to create a calm and peaceful environment.
The front entry is designed to provide an inviting and open entry area with ease of movement to primary care check-in. Also, the entry vestibule design allows patients the convenience of a one-stop shop scenario – providing direct access from the vestibule to the Pharmacy (ACPHS) and Lab Diagnostic Testing (LabCorp), allowing these facilities to have separate entrances with their own hours of operations.
The overall space is designed for 3 primary care client populations: adult, women's, and pediatric care with flex space for exam rooms in between the adult and women's care. Access to exam rooms is from a central check-in surrounded by a series of smaller, individualized waiting areas allowing for personal touches and a quiet calm environment.
Overall, the project design is an integration of the patient and staff needs. Creating an environment that is comfortable and efficient for all.